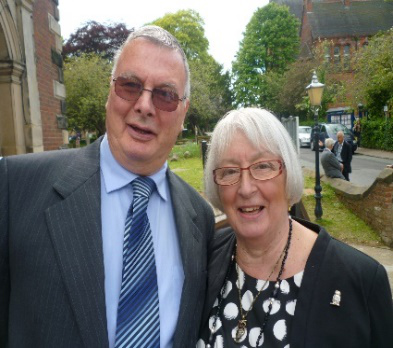 I am Chris Miles and I am pictured here with my wife of fifty-one years, Pauline.
We have lived in Packington all our married lives and love belonging to a small rural community. We were both teachers and I taught at Granville School in South Derbyshire for nearly forty years becoming the Head of Physical Education and Music Departments.
My current interests are; my family: the Packington Memorial Hall where I have been Chairman of the Management Committee for a considerable number of years: Testify Choir for which I accompany on piano and compose tunes: Parish Council and their associated Charities the Recreation Ground Charity and the Earl of Huntingdon Charity: I have also been active in Stop HS2.
During my time in Packington I have helped in organising; the Memorial Hall's refurbishment, Packington Play Area Facilities, Carnivals, Concerts, Royal Celebration Days, Commemorative events; Bonfire Parties on the Recreation Ground; Duck Races on the Gilwhiskaw and have been involved in sing-alongs in the Pub at Christmas and on St George's Day.
I have enjoyed being involved in community events and have met and become friends with a great many dedicated volunteer helpers from the village.
If elected for a further four-year term I will do my utmost to keep the spirit of Packington alive and to work tirelessly for the good of all residents.
This publication is promoted by me, Christopher Miles of 14 Babelake St Packington Leicestershire LE65 1WD and displayed by Packington Post electronically on my behalf.