A Police Crime Map is available, updated monthly.  Click here or on the picture below to see it. Scroll further below to see how to contact your Police.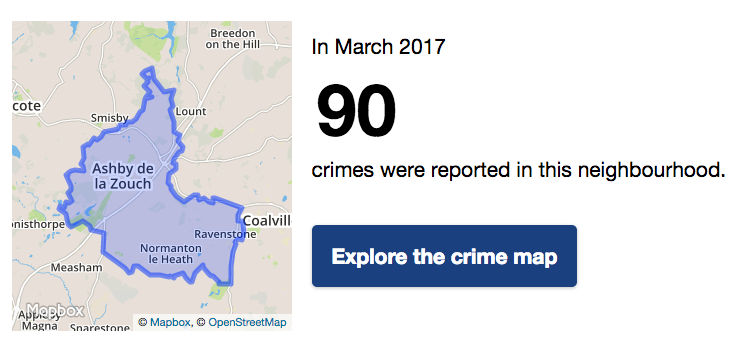 The UK Police website has lots of useful information for us in our village and in our local area. For examples, you can
read about your local community police and see their photos;
read about our elected Commissioner for Police and Crime (PCC), and the priorities set for our Police;
check on crime in our area or anywhere else in UK.
Sign up for monthly emails when the information is updated
It's an easy web address: "Police dot UK"  which your browser will translate to https://www.police.uk/
---
Various ways of Getting in touch with the Police:-
 1.      In an emergency – dial 999 for example when life is in danger, or a crime is being committed
2.      Telephone 101
You can call 101 to report a crime that has already happened and any other incidents or concerns that do not require an emergency response. You can also call 101 to speak to your local Neighbourhood Policing Team, to make a general enquiry or make us aware of any policing issues in your local area.
If you have any hearing difficulties or a speech impairment, a text phone is available on 18001 101.
Click here for more information on 101.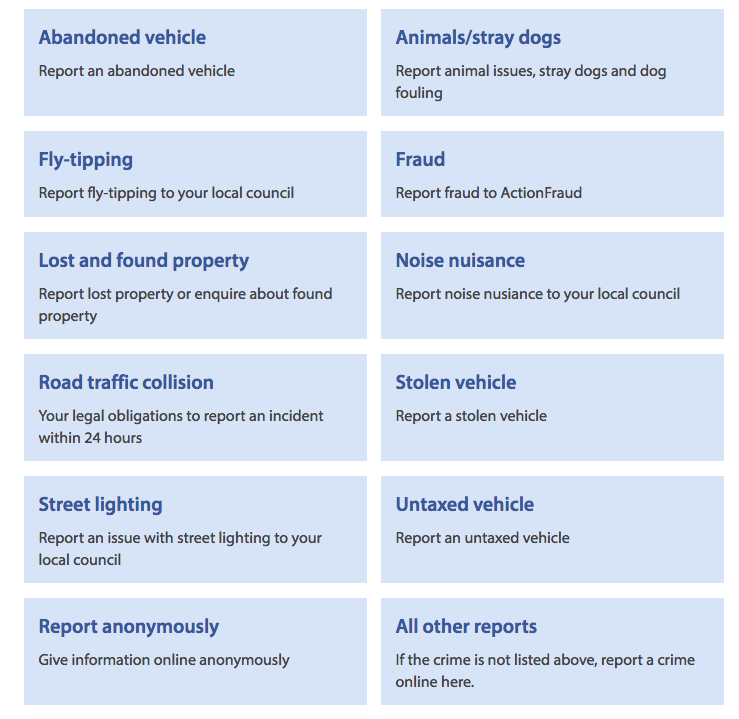 3.      Report Online: https://leics.police.uk/report-online
Lots of ways here to report Abandoned vehicles, stray dogs or animals, fly-tipping, stolen or untaxed vehicles and many other aspects.
4.     Text 07624 818 901 for deaf, hard of hearing, or speech-impaired people.
Click here for more information on text message access
5.      Ask Your Police
Ask Your Police is an official police resource of Frequently Asked Quesstions, FAQs, developed to reduce the number of non-emergency calls to police forces. You can access an extensive bank of police-based common questions.
6.      Telephone Crimestoppers free on 0800 555 111
If you have information about crime in Leicester, Leicestershire and Rutland, you can contact us on Leicester 101 or Crimestoppers, which is anonymous on 0800 555 111.
7.      Contacting individual officers
By voicemail
If you know the identification (collar) number of a particular officer, use our voice messaging system to leave them a message. Dial 101 – follow the instructions, and when prompted, enter the officer's identification number to leave a message.
If you don't know the officer's identification number you can speak to a member of our Call Management Department who will help. Again, dial 101.
By email
If you know who your local police officer is, you can email them with non-urgent enquiries. Click this Local Policing link of the Police website.
By post
You can contact Leicestershire Police by post by writing to your local policing unit or
Leicestershire Police Force Headquarters
St Johns
Enderby
Leicester   LE19 2BX
Mark your envelope clearly with the department or individual you want to contact.
---
Coalville Police Station Opening Hours 2013-14
9am – 9pm Monday – Sunday until end March 2014
from April 2014:
Monday to Friday – 9am to 6pm
Saturdays – 10am to 4pm
Sundays – Closed