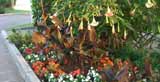 Packington Village Gardens Open Day – Major Village Event on Bank Holiday Monday, 31st August 2015 from 2pm to 7pm. Admission is by passport to up to 12 gardens, Adults £3.50, Children FREE.
Passports are available from Packington village Car Park on Measham Road – LE65 1WP for your SatNav – or at partaking gardens.
Refreshments including cream teas ..Click here to read more..
Share and Enjoy