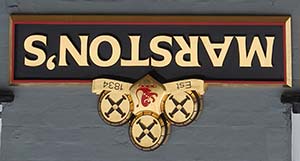 Guest contributor Wally Instrall writes:
To Readers of Packington Post, and hopefully The Ashby Times
.
I would like to express my utter disgust at the shabby way in which Marstons, the brewers, have treated the incumbents of the Bull & Lion.
Mandy and her team had started to revive the pub, were succeeding and had gained the support and affection of the whole village, when at a few days notice they were told that the tenancy had been bought and that they must vacate by the end of the week !!!
This may have been a good business move but from the point of view of humanity and decency it absolutely STINKS.
The new tenants had viewed the pub (without Mandy's knowledge) and bought the tenancy, probably because of the vibrant  nature of the pub created by Mandy and her team.
A written copy of this email is being sent to Marstons and The Ashby Times (neither have a published email address)
Copies to Marston's Wolverhamton WV1 4JT and The Ashby Times, Coalville LE65 3QP.