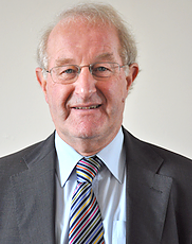 Being a Parish Councillor is as much about working together as about the individual. Each councillor contributes their experience and skills. Having been in business all my life until retirement I have a reasonable understanding of financial matters, a dislike of red tape and box ticking, and a willingness to challenge issues if I believe them to be against the interests of the Parish. With others I have attended many meetings with NWLDC and the County Council to argue the case for Packington. Planning has presented its challenges; you win some and you lose some.

Over the years I have particularly supported community activities via the Parish Council and personally, E.g. the Annual Bonfire event, Party in the Park, Carnivals and Royal Celebrations. Involvement with other charities has helped being a trustee of the Recreation Ground and Huntingdon charities.

Looking to the future I would like to see a link to Hicks Wood for cyclists which avoids Measham Road, and a footpath to Normandy Wood which could be used by all including wheelchairs.

Packington is a great village. It has given a lot to me and my family. Together we can keep it that way.

This publication is published and promoted by me, Ian Dring, of 19 Babelake Street, Packington, LE65 1WD