Packington Neighbourhood Watch Christmas Message: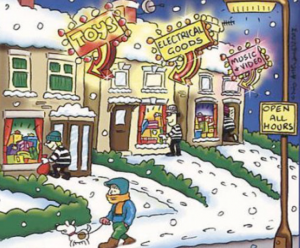 Criminals like presents at Christmas, too.
They window-shop, but often through YOUR HOME WINDOWS.
DON'T MAKE IT EASY FOR THEM!
keep presents out of view from your windows

recycle gift packaging with care – boxes by your bins advertise you have expensive items

leave a light on and draw the curtains if you are out after 4pm, every day

mark your valuables with a UV pen or property marking service

if you go away, make your home look occupied. Ask a trusted neighbour to help.

help YOUR neighbours. Report anything suspicious to the Police on 999 (Emergency) or 101 (Non-emergency) or anonymously to Crimestoppers on 0800 555 111
Thieves also window-shop through YOUR CAR WINDOWS.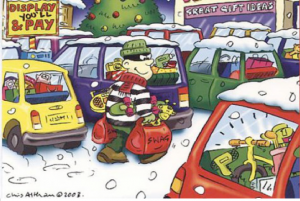 Don't leave valuables in cars.

If you must, lock them in the boot. Do so before you arrive, so nobody there sees you.

Leave NOTHING on show in the car, not even a coat or an empty bag.

When you shop, beware of leaving stuff on view while you then buy more.
Please – join our Packington Neighbourhood Watch (NW) group. We still need street contacts for Babelake street, Homecroft Drive and Nethercroft Drive.  We don't need a major commitment – it's just about helping keep your near neighbours aware of any incidents or issues. NW Street co-ordinators meet generally every 2 to 3 months, and on the plus side we meet in the pub!
Open season for burglars? Make sure it's not so in YOUR life this year. Pass-on this advice to your neighbours and friends.

Stephen Flook, Packington NW Co-Ordinator, Tel 01530 415185