What's it like to be a councillor?
What's it like being a parish councillor? There's a special chance to informally drop-in and talk to our 6 councillors on Tuesday at 6:30 pm, for half-an-hour before their formal Parish Council meeting starts at 7 pm. Chris, Ian, Jacquie, Clare, Alan and Bob can tell you why YOU should have a go at taking their job at the elections of 2nd May 2019. Rumour has it that they won't all stand again this year – but all 6 positions are up for election. You might even get in unopposed.
Tuesday 5th February 2019 6:30pm at Venue 35 (Memorial Hall meeting room)
Look, Packington needs YOU to take up one of these 6 vacancies for our Parish Council for the next 4 years. This open chat session could give YOU the confidence to GO FOR IT and stand for election. Please come and talk to them!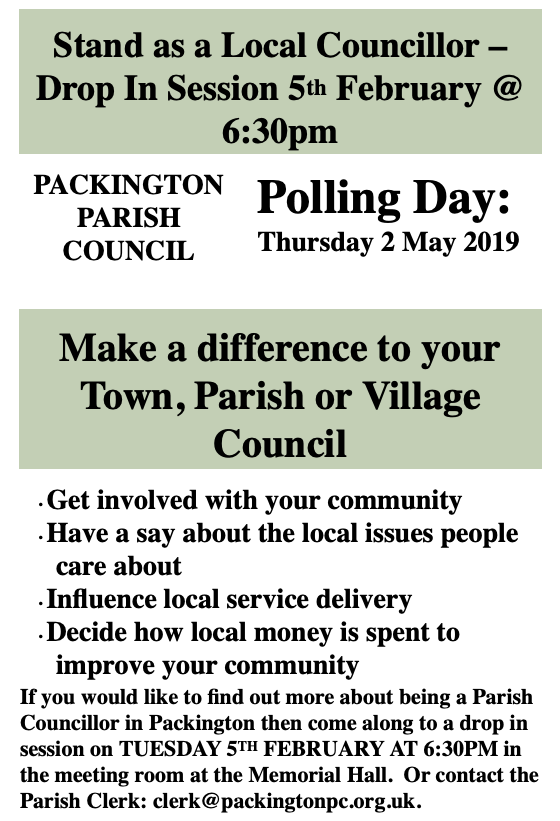 They can tell you the inside story of what it's like to do their volunteer rôle. These are REAL people with REAL lives in our village, and their work really benefits our village. Yes, it's one meeting a month, with some stuff to read in between, plus some papers to push and some village projects to help with. But, these are the guys and gals who sponsored our Party in the Park, and our WW1 Centenary celebration, that's just two recent things. They also sponsor our village magazine and lots of your favourite events, they run the recreation ground and the bonfire night. They also have inputs to formal stuff like planning permissions and roads and highways and all sorts of things that Local Government does in our area.
They WANT to talk to YOU. PLEASE will you come on Tuesday 5th February at 6:30, and then resolve to make a difference for us all in May? If you want, stay on past 7pm Tuesday at the formal meeting to hear the police report and other fascinating bits of local news. Then – Please STAND for ELECTION – here's the timetable and details