New Landlord at our Bull and Lion : Alan Hutchcraft
Telephone 01530 587361
Mobile 07976 953002
Following the departure of temporary landlord Justin Hadley, the reins have been taken up by new landlord, Alan Hutchcraft, who has over 20 years experience in the licensed trade. Together with Billy the Chef and the rest of the staff, they are intent on returning the local pub as the vibrant location it had become under the recent stewardship of Mandy Mulholland & family.
Alan hopes that you will support their efforts, and would be delighted to hear your views, comments and suggestions on what you would like to see available at the Bull & Lion – apart from of course a well-kept cellar, good food, and a great atmosphere.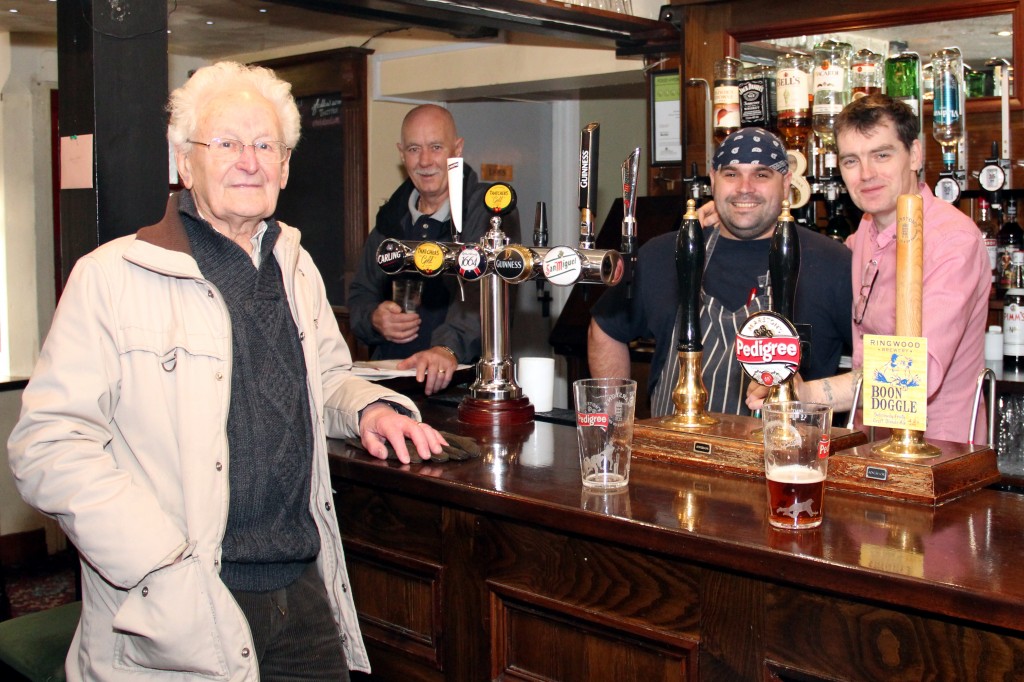 He is keen to emphasise that following recent upheavals it is vital that the Bull and Lion returns to be a centre of village life,  a natural meeting place for groups, clubs and of course all village residents.
Pictured here with two of his first customers, Roger Muggleton, President of Packington Cricket Club and Wally Instrall from The Grange and of course, Master Chef  Billy, Alan's message is as follows;-
Hello and a belated Happy New Year to everyone in Packington  –
I would just like to say a big "thank you" to everyone that has called in to introduce themselves to me in the short time I have been here, and their welcome has been greatly appreciated.  The support from the Packington Post team is fantastic, and I will certainly be using the communication channels that they are able to offer through the Packington Post,
www.packington.info
  website and the email alerts system to inform you about events at the pub. I hope we can continue to move the Bull & Lion forward with support from you for myself and all the team, including of course "Master Chef Billy". The menu will be similar to recent weeks of course including Daily Specials. ALL FOOD IS LOCALLY SOURCED and DISHES are PRODUCED IN-HOUSE.  We have lots of good ideas to move the business forward and make it once again a great venue and the central hub of the village. Details will follow in due course, but don't forget the regular
Tuesday quiz starting at 9pm
, teams up to 6, £1 per person with cash prizes. Also the
Packington Cricket Club
(who are based at the Bull & Lion)
Beach Night on this Saturday, 18th January
Packington Cricket Club are proud to present for the first time in the village 
A Fun  'Beach Night' at the Bull & Lion
on Saturday 18th January 7.30pm
ALL WELCOME
Come along and enjoy the fun as team members undertake "bush tucker" challenges.
Bet on who will succeed –or not!!! Betting Packs are £10 – Prizes include Dinner for 2 at the Bull & Lion, Champagne, Wine ……………
Please feel free to call in anytime (except Monday before 5pm as Billy & I have a lazy day then!!) to have a chat with me as I want to hear your constructive views on any aspect of the Pub.  Whatever we can achieve together will be seriously looked into. Again a big thank you for all your support
Alan, Billy and all the team
Telephone:  01530 587361  Mobile:         07976 953002
Staffing is still being arranged for some food times but revised opening times from today Thursday 16th January are:-
Monday
        Closed lunchtime   open 5-11pm            No food
Tuesday
        12-2pm                     5-11pm                    
Food tbc
Wednesday
12-2pm                     5-11pm                     Food 12-2pm, 6-9pm
Thursday
     12-2pm                     5-11pm                     Food 12-2pm, 6-9pm
Friday
           12noon-12pm                                            Food 12-2pm, 6-9pm
Saturday
     12noon-12pm                                            Food 12-4pm, 6-9pm
Sunday
         12noon-11pm                                            Food 12-4pm, 6-9pm