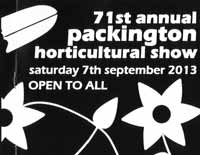 September is nearly here – last year's milestone  70th Anniversary show was one to remember, and with this year's  far better summer, this year's Packington Show looks like being even better.  We strive to improve year on year.
The Show is SO IMPORTANT to the whole Village and to all that have supported us for all the years.  Without that support it would not be possible.  Times are given .. below  along with the full programme of Classes which  has been delivered in print to every village dwelling. Most important is  the participation of younger village members,  and the interest shown in the variety of categories in their  junior section.  If the success we have all  enjoyed over many years is to continue to be enjoyed by future generations, then these are the ones to do it.
So, come on kids, there really is life beyond the iPad and computer gadgets, mind you, at that age, communication technology for some of us, came in the form of 2 empty cans and a length of string, however, we move on, I now have a mobile phone ….!
Look forward to seeing you all, regulars and newcomers alike, to what promises to be "yet another", show not to be missed.
| | | |
| --- | --- | --- |
| 0800-1200 | | Open for registration of entries. |
| 1000-1200 | | Refreshments available. Tea, coffee, cakes, etc. |
| 1200-1400 | | Judging of exhibits |
| 1400 onwards | | Bar opens and hot & cold food available. |
| 1500 | | Public viewing of exhibits. |
| 1730 | | Presentations and awards |
| 1800 | | Auction of exhibits and other produce. Stage managed by our very own Mr Chris Miles. |