2pm – 8pm at Measham Leisure Centre DE12 7HR
Spread this news! – as a final part of consultation, HS2 are holding Roadshow information meetings close to us, as follows:
THIS THURSDAY 1st November: Measham Leisure Centre, bottom of High Street, Measham, DE12 7HR, 2pm – 8pm
Saturday 10th November: Wilnecote School, Tamworth, B77 5LF, noon – 5pm
Thursday 15th November: Yew Lodge Hotel, Kegworth, DE74 2DF, 2pm – 8pm
Below are 2 maps for you to consider.  Yellow and brown are construction compounds, fenced off.  Pink is land required for construction.  These are here on HS2 website, part of the working-draft Environmental Statement (WDES) to describe likely environmental effects of building and operating HS2, as well as proposed ways to "avoid, reduce, mitigate, and monitor" these effects.
Consultation only lasts to 21st December 2018 – HS2 have engaged beneficially with our HS2 Response Group, and your presence and questions at one of these meetings will highlight our concerns to them. 
Map to our North West: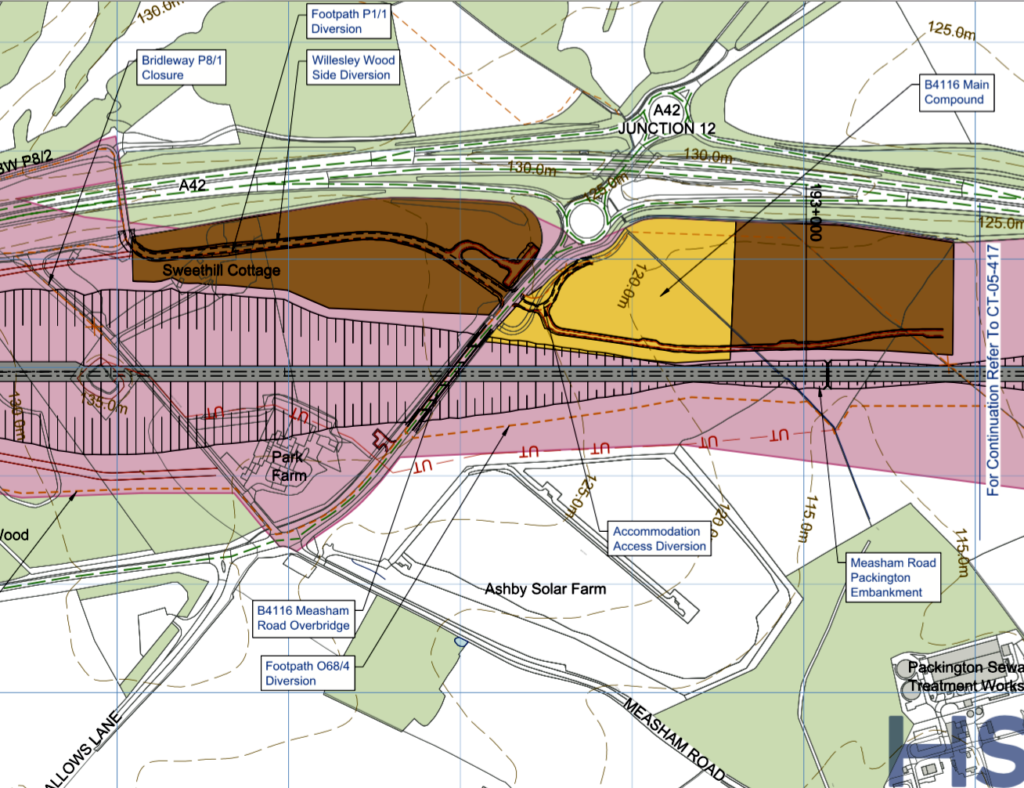 .
Map to our North East: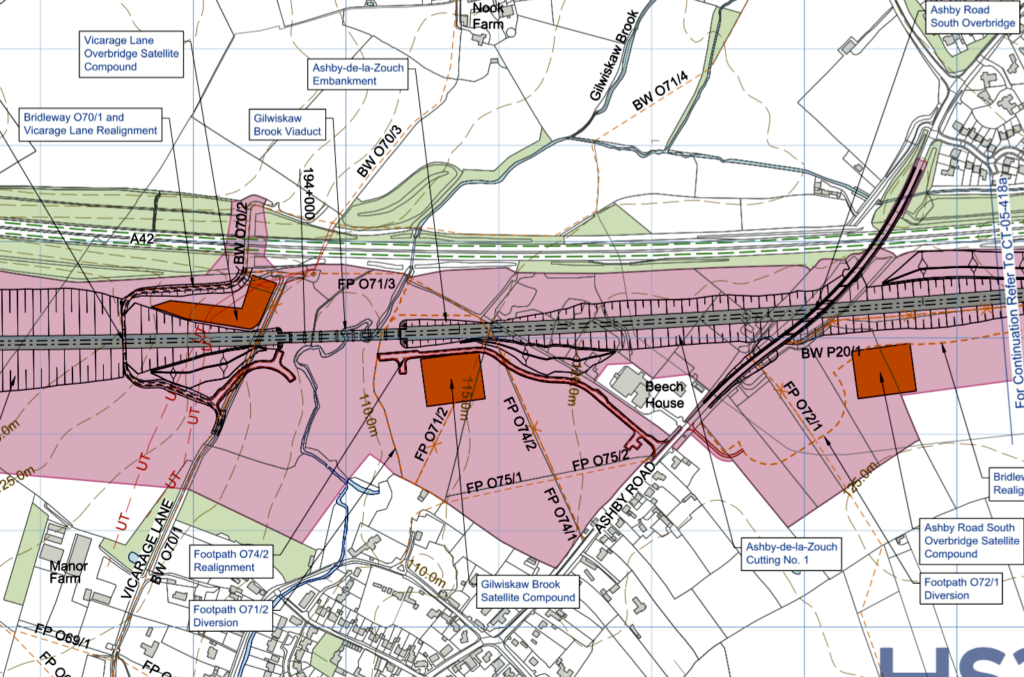 .
Residents have an opportunity in the next few weeks to submit a response to these reports. Both the local HS2 team and Leicestershire County Council have advised us that responding to these reports is vital as it forms the detail of the construction process and the design of the route which means how it will impact our daily lives. It's this detail that they will be firming up in the months ahead so we continue to put forward our mitigation proposals. 
The Packington Residents Team will provide further updates over the next month for those who plan to respond to HS2.
Below are some of the major elements which we've highlighted from the reports:
The maps are based on the 2017 route.
Construction…
HS2 are assuming they will take all of the land between the A42 and the gardens of those living on Mill street and Ashby Road during construction. (The pink area on the maps)
Ashby Road bridge is expected to be closed for 19 months, as are Leicester Road bridge (new Packington) and the B4116 (Measham-Ashby road) and the A511 – all at different time – We are continuing to ask for Ashby Road HS2 bridge to be built "offline" so the road can stay open, as it is a school route and a life-line for Packington to access facilities in Ashby. The risk is that Packington becomes a rat-run / the diversion route when other roads are closed – we need to avoid this.
It is unclear if public footpaths will be diverted, & can stay open, or will be closed during construction. Vicarage Lane is the most used public right of way (that crosses HS2 line) in the NW leicestershire area according to HS2's survey.
The maps show no construction traffic through Packington (and we have been told construction traffic will be via a "haul road" with the site), BUT... The words say that Measham Rd/ Bridge St / Normanton rd / Coleorton Lane / Ashby Rd / Vicarage Ln will be used as construction routes (i.e. many trucks per day) – We need to make sure no construction traffic uses Packington's roads (it will be bad enough with extra traffic avoiding HS2 work elsewhere in the area)
Park farm (8 houses) & Sweethill cottage (Measham Road) and the fastener factory and 2 houses at New Packington will be demolished, as they are within the HS2 area.
HS2 are thinking building a Railhead beside the Burton – Leicester railway line at J13, to being material in for HS2. This was expected, and will reduce the number of HS2 trucks on the roads, but they are currently assessing a very large area of land (way more that is required), most of which is greenfield!
Operation…
Although there is some suggestion (not confirmed though) in the words that the Gilwiskaw viaduct will be slightly lower and shorter than stated in 2017, it is still too long and too high & will cause noise and visual impact on the village.
This is borne out by the Noise map for Packington. Main areas of impact for Packington are Ashby Road and Mill street. New Packington & a surprisingly large part of Ashby are also seriously hit with noise.
There are no sound bunds shown for between Ashby Rd and New Packington and no sound bunds for the raised section of HS2 behind the sewerage works – both mean that when the wind blows from either of those directions, Packington will get both A42 noise and railway noise.
There's NO viewpoint from top of Mill St in the middle of the village (which will show how badly the HS2 slicing through the hill opposite will look) – we need to push for it to be included.
The Packington Residents Team
Contact Terry Hammond Tel:- 01530 415764
Email:-terryhammond@me.com