ASHBY IVANHOE GARDEN SOCIETY IN PACKINGTON

AIM: "To promote an interest in horticulture, to further the exchange of information, and to spread the love of gardening"
Our 2017 Programme leaflet is shown below: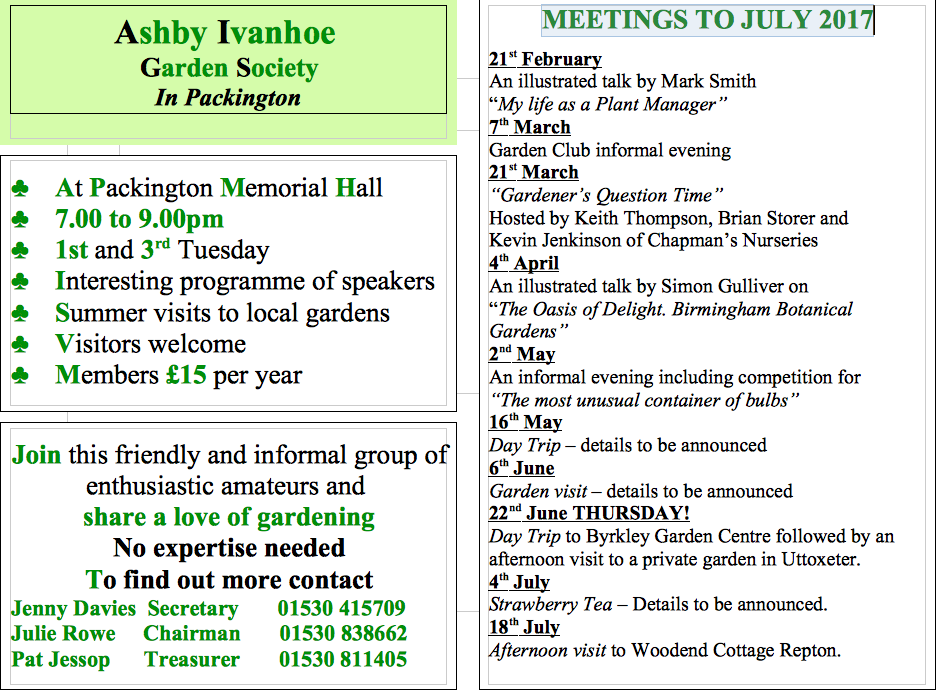 The Garden Society will soon be celebrating 30 years since its modest beginnings when a small group of enthusiasts met together over tea and cakes in someone's front room. As numbers grew they set up in the Ivanhoe College before moving to Packington in 2010. Average membership is about 45.
Members enjoy illustrated talks by guest speakers and summer visits to local gardens under the Yellow Book Scheme. The programme also includes social events, a coach outing and a Christmas Lunch. Members pay an annual subscription of £15 and visitors £1.50 a meeting.
21st February – illustrated talk by Mark Smith,  Staunton Harold Nurseries, "My Life as a Plant Manager"
6th March – informal club social evening
21st March – the return of "Gardeners Question Time" hosted by Keith Thompson, Brian Storer and Kevin Jenkinson from Chapman's Nurseries. The popular trio will answer questions from the floor and there will be a selection of seasonal plants for sale.
This is a friendly, informal group. Visitors are welcome. Just turn up. No expertise needed. We are enthusiastic amateurs who share a love of plants and gardens.
Pat Jessop, Treasurer 811405