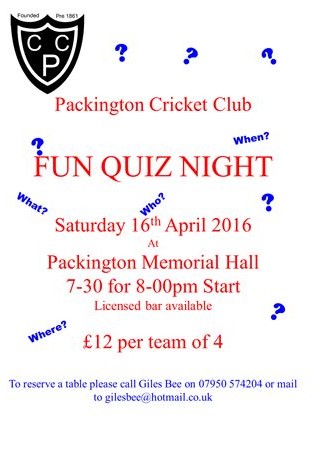 This year's Packington CC Fun Quiz Night will be held on Saturday 16th April 2016 at Packington Memorial Hall, 7-30pm for an 8-00pm start. Entry is for teams of 4 players, and the cost per team is £12 – yes that's right, £3 per head for an evening's entertainment, you can't say fairer than that!!
We will have the usual mix of questions.  As ever there will be a licensed bar to help oil the wheels & cogs of your brains as you attempt to answer the questions. It's all light-hearted though, we aim to keep the emphasis on the "fun" aspect of the evening!
All proceeds from this event go into the Cricket Club's funds to help pay for ground and equipment maintenance, club insurance, etc.
So to book your team's place, phone Giles Bee on 07950 574204 or email gilesbee@hotmail.co.uk.
Looking forward to seeing you there!