We are all excited for the return of the annual Packington Bonfire Party on Friday 5th November. The bonfire will be lit as near to 7pm as possible and there will be two sessions of display fireworks. In the interval there will be a sparkler session for youngsters accompa­nied by an adult, this will be free of charge. 
Entry will be via the top entrance to the play-area, on Vicarage Lane. If you park in the Recreation Ground car park, please walk up Vicarage Lane to this entrance, it is a safer access in the dark. The event itself is free but we shall ask you for a donation, which can be gift-aided, and will help the charity to pursue its aims.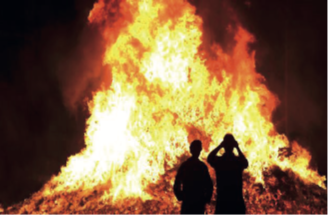 Hot dogs, burgers, punch and drinks can be pur­chased, and we hope you all have an enjoyable time. Please come and support this event no matter what the weather. There will be over £750 of display fire­ works – the charity had to pay a hefty £400 insurance premium to stage this bonfire, so we need to see the whole of Packington on the Recreation Ground.
Please DO NOT BRING ANY OF YOUR OWN FIREWORKS to this event. This includes sparklers. It is a condition of the insurance that only authorised fireworks are displayed, in a safe and secure environment.