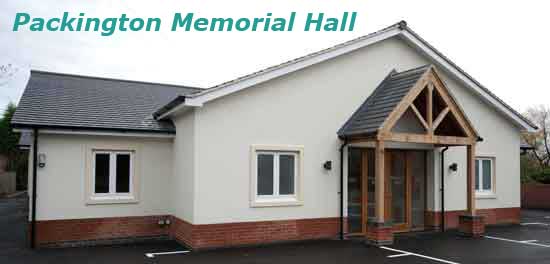 Packington Memorial Hall – two major event venues at the heart of our village
Rate details from 2 Feb 2016:
Rates including use of equipment, heating and lighting:

each hour

Other charge

Main Hall / Lounge Bar Area

 

Main Hall / Lounge Bar Area with Kitchen

 

 

Meeting Room with Kitchen

 

 

Packington Residents and village groups

 

Regular repeat hirings (more than 10 occasions a year)

 

Occasional commercial use hire – 3 hours minimum

 

Returnable Deposit required when booking

 
Packington Memorial Hall is a modern building, completely rebuilt brand new in late 2009. Scroll down to see the layout scale plan. The facilities comprise two venues: – A Main Hall and a Meeting Room.  The Main Hall is capable of seating:
Closely seated: 150
Seated at tables with dancing: 120
Dancing no tables: 150
Packington Memorial Hall has a sectional stage, with six 8' x 4' sections which can be formatted as required or removed completely. There is a Public Address system in the main hall, with hearing loop; other equipment includes an installed powerful presentation projector, and a full-size roll-down screen.  There is a large and well-equipped kitchen, and a separate Lounge Bar facility in the building. Scroll down to see the full layout of Packington Memorial Hall.
There is a separate Meeting Room annexed to the main hall which can be accessed either from the main hall or through a separate entrance on the north side of the premises, scroll down to see this layout plan. It can be used independently of the main hall. It has its own disabled toilet facility accessed from its own entrance hall. Inside the meeting room, which can seat 35 people theatre style and 20 boardroom style, there are tea-making facilities and a washing up area. There is also access from the meeting room to the kitchen.
Here's a photo of the Meeting Room, shown as used for our Lunch Club:

Bookings Secretary: Joan Lawther 07585 327291

Enquiry Form for Packington Memorial Hall
So that we can provide an accurate quote for Packington Memorial Hall availability and costs, please Provide the following information:
Full name & Address, including postcode
Contact telephone number
Which rooms are you interested in hiring? Main Hall, Meeting Room or both?
Which date or dates are you interested in? Please give a 1st and 2nd
What times do you require? (note the hire time will need to include time to set up, time for event and the time to clear up)
What is the purpose of the evenet? Eg, christening, Childrens party, Adult Birthday party over 21, Anniversary, Funeral Wake, Barn Dance, Charity Event, Wedding, Public event, Club event, Other – please specify?
Will you be requiring the stage to be left in place? (no charge if leaving in place but £10.00 charge to remove – if having bouncy castle or barn dance to give greater floor space)
If party is for a child please advise the age the child will be?
If for a child's party will you be having a bouncy castle  (arranged by the hirer checking with the hire company that they have the necessary insurance)
Will you be serving food, so the kitchen will be required?
Will you be requiring the bar provided by Packington Memorial Hall? (you cannot bring your own alcohol onto the premises.  Packington Memorial Hall arranges and provides staff to staff a bar)
Will you be requiring tablecloths to be provided by the memorial hall? (additional cost applies)
Do you have any other special requirements?
Will you be requiring a viewing before booking and if so please advise days/times most suitable
email: hall "at" packington "dot" info
Hiring Rules download, click here>  Packington Memorial Hall hire Terms & Conditions

Packington Memorial Hall Bookings Calendar – click on an event below for details:

Look up above you,  just as you go through the front doors,
to see the retained historic facade of the previous Packington Memorial Hall 1957
  Management Committee of the Packington Memorial Hall

Key Contacts:

Chairman
Chris Miles
01530 414378
Secretary
Lisa Mayles
01530 412367
Treasurer
Judith Wilson
01530 412658
Communications
Marian Mugglestone
01530 414964
Member
Mike Coke
01530 560430
Bookings
Joan Lawther
07585 327291
e-mail
hall

at

packington

dot

info
Meetings  Third Thursday in Month, at – the Memorial Hall !